Before you continue, please know that this page has affiliate links and we'll get paid if you buy anything after clicking a link. Our recommendations are based on research from reddit, Quora, Amazon, and sometimes real-world usage if the item isn't crazy expensive.
These micro SD cards are awesome little memory storage cards that are cheap and durable. Finding the perfect micro SD card usually comes down to preference as this older technology is almost perfect and reliable across the board.
Micro SD Cards
These micro SD cards below are the cards that I believe are the best. The next time you need more storage for your camera, computer, or gaming console then this list should be useful.
Samsung EVO Select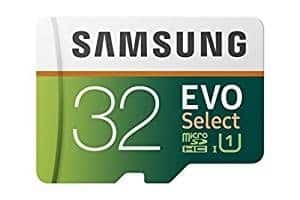 The Samsung EVO Select is a great card that starts at under $20 for 32 GB of space. These micro SD cards from Samsung go up to 128 GB of storage and has data reading speeds up to 95 MB per second with a write speed up to 20 MB per second. This little card is waterproof, dustproof, and magnet-proof. And it comes with a full-size SD card adapter because you'll probably need it.
SanDisk Ultra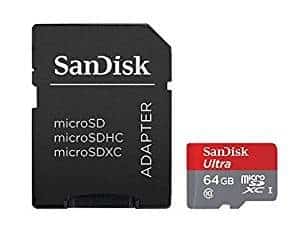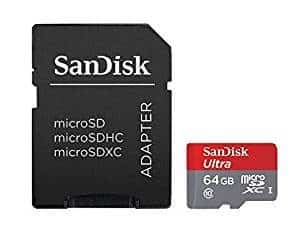 The SanDisk Ultra is a great card that goes up to 256 GB of storage. SanDisk micro SD cards are usually the recommended card for storing videos, photos, music, and files. SanDisk is definitely the most reliable brand as it is known for its SD cards. This micro SD card can reach up to 80 MB per second transfer speeds. SanDisk micro SD card also comes with a full-size SD card adapter.
Kingston Digital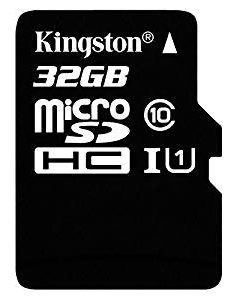 Kingston cards stand out because of their great warranty. This SD card has storage that goes up to 128 GB. These micro SD cards are reliable but are slower than SanDisk and Samsung, with a data speed of 45 MB per second and a write speed of 10 MB per second. Because of the lower speed, these cards are usually priced at around $11-$12.
Samsung PRO Select
Samsung and their PRO Select Micro SD card are faster than the average micro SD card and this comes with a premium price. The Samsung PRO Select data read speeds can reach up to 100 MB per second and the write speed can reach up to 90 MB per second. This SD card can be found for less than $60 for 64 GB of storage. This micro card comes with a full-size SD card adapter.
Lexar 633x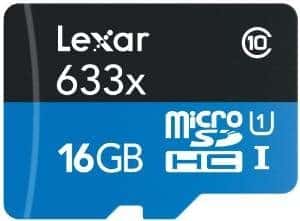 This Lexar's High Performance is another extremely reliable brand, probably rivaling SanDisk these days. This micro SD card storage goes up to 256 GB, which is probably why I see our photographers bringing a few of these at our events. The Lexar 633x transfer speeds can reach up to 95 MB per second. Lexar is one of the only cards that have a bundle option of a USB 3.0 micro card read or the traditional full-size SD card adapter.
SanDisk Extreme PLUS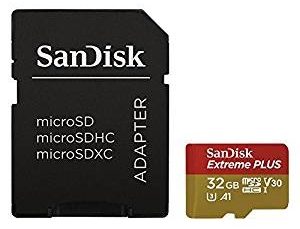 This SanDisk Extreme PLUS card has data read speeds up to 95 MB per second and write speeds up to 90 MB per second. Besides the durability, this card has an app for data management and comes with recovery software, and even has a lifetime warranty.
Silicon Power Elite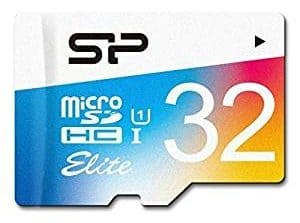 These are high endurance micro SD cards created by Silicon Power. This card has storage options up to 256 GB and is meant to store over 30,000 hours of full HD video. Silicon Power micro SD cards have a two-year warranty. This card has transfer speeds of around 80 GB per second.
Conclusion
Sometimes you need more storage space and a micro SD isn't enough… check out our best external hard drives article if you want to look at more storage. Anyway, we hope this list of micro SD cards helps you find a reliable card for your needs. If you're looking for another opinion, please check out the video below for information about 5 popular micro SD cards.
I'm Cartez Augustus, a content creator based in Houston, Texas. Recently, I've been delving into different content marketing niches to achieve significant website growth. I enjoy experimenting with AI, SEO, and PPC. Creating content has been an exciting journey, enabling me to connect with individuals who possess a wealth of knowledge in these fields.