Before you continue, please know that this page has affiliate links and we'll get paid if you buy anything after clicking a link. Our recommendations are based on research from reddit, Quora, Amazon, and sometimes real-world usage if the item isn't crazy expensive.
Google has a new Chromebook for us all this holiday. Google is getting better each day with their own products so I'm calling it now, this will be the best Chromebook for all the Chromebook lovers out there. Parents get ready to upgrade your children's subpar Chromebook with this beautiful device.
The rumor is that the Google is releasing a brand new Chromebook soon called the Pixelbook, according to Droid Life and about 200 other tech blogs. The Google Pixelbook is expected to be available in three different storage sizes: 128 GB, 256 GB, and 512 GB. The prices are rumored to be $1200 for the 128 GB, $1,400 for the 256 GB, and $1,750 for the 512 GB Google Pixelbook.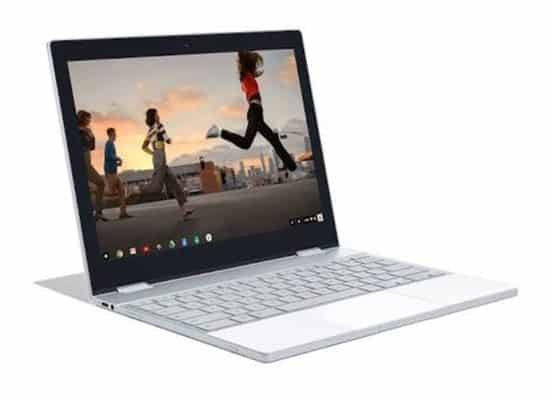 Additionally, the Pixelbook is rumored to fold flat like a tablet. The data must have told Google that this design factor is the most popular right now. The Pixelbook will have a proprietary stylus, called the Pixelbook Pen, sold separately for about $100. In my opinion, for the Google Pixelbook to compete outside of the education market, it must have at least 4 GB of RAM, amazing battery life, better customer service, and a few incentives to compete with the customers that usually go straight for a Microsoft Surface Laptop or Apple MacBook Pro.
More information will be available on the Google Pixelbook, we should get all the details at Google's October 4th event. I actually hope that Google introduces something amazing and other companies rush to copy it.
Also, remember that these Chromebooks are great for many things besides heavy processing programs and video games. These Chromebooks have great battery life, are extremely portable, perfect for watching your favorite streaming service, and one of the best student tools for getting homework done at home or on the go!
I'm Cartez Augustus, a content creator based in Houston, Texas. Recently, I've been delving into different content marketing niches to achieve significant website growth. I enjoy experimenting with AI, SEO, and PPC. Creating content has been an exciting journey, enabling me to connect with individuals who possess a wealth of knowledge in these fields.