Before you continue, please know that this page has affiliate links and we'll get paid if you buy anything after clicking a link. Our recommendations are based on research from reddit, Quora, Amazon, and sometimes real-world usage if the item isn't crazy expensive.
This guest post is by Zoe Cohen.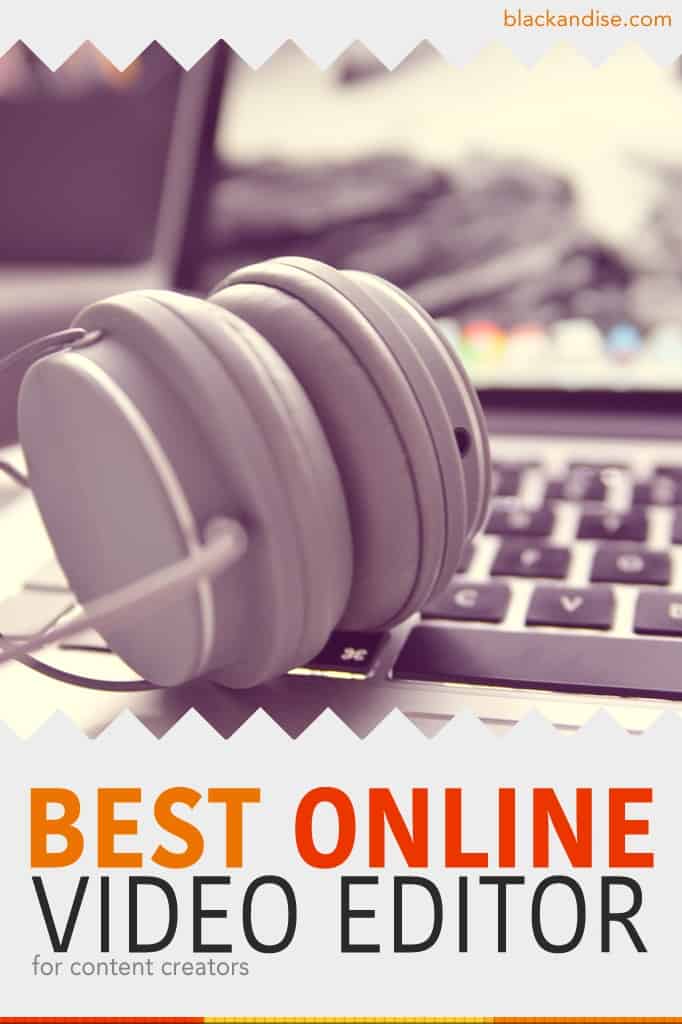 Having an online video editor as a backup to your mobile app process is important for content creators. A cursory glance at the incredibly wide array of YouTube videos in existence will show there's a huge difference between the shaky, grainy videos caught on smartphones and the well-paced, polished videos published by established creators. Although some of what sets creators apart are their content and overall vision, an important, often forgotten, component that supports the artistic vision is editing. Adding words and graphics to the video, creating that jumpcut vlog aesthetic, and many other useful techniques require the proper editing tools. While there are many varied options for editing tools, we're going to focus here on online software (as opposed to apps or desktop software) because they offer a lot of functionality but are accessible to anyone (they aren't OS-specific). By figuring out which online video editor is best for you, you can reach your highest creative potential, paving the way for you to become the next YouTube sensation!
There are such a plethora of online video editors that we will recommend different ones for each type of video you might want to make. The thing to keep in mind is that although all of these offer some degree of free use and free features, you won't get the best results without shelling out some money, unfortunately. So when choosing an online video editor, be sure to shop around and check out each editor's range of paid plans.
Beginner Editing
For those new to video editing, Magisto is probably your best bet. Not only is it extremely user-friendly, but it also offers very high-quality features. This online video editor specializes in taking videos you've already shot, choosing the best parts, splicing them together, and then overlaying themes, music, and effects that Magisto provides. This is a fun and easy way to create an elegant high-quality video, but more experienced creators will find that they don't have quite as much control as they'd like.
Education
A vlog is very different aesthetically from an educational or informative video, which means you're going to need an online video editor with a different focus. Your best bet is PowToon. Unlike previously mentioned editors, PowToon operates on a drag-and-drop system, allowing you to create animated videos with vibrant backgrounds from scratch rather than having to provide your own footage. It is easy to use and allows you to create paper cut-out-like animations suitable for any use.
Collaboration
WeVideo is great for any teams that are working together to create content. Similar to Google Drive, WeVideo keeps your videos-in-progress and finished pieces in the cloud, so you don't have to worry about being on the right computer or carrying the file around with you. This feature lets you invite other people to work on the video with you at their own convenience wherever they want, making it the best online video editor for collaboration with others.
Although this editor is marketed as a collaborative editor, it is also our top pick for general video editing. Its extensive set of features (animation, voice over, clip transformation) and ease of use are second to none, but the best part is that WeVideo allows you an incredible amount of control over every aspect of your video. With all of its functionality, the cloud storage option is just icing on the cake rather than its main selling point.
It's important to remember that with these online video editors, it's difficult to make any quality videos of a decent length without paying, so be sure to shop around and see which pricing plan suits your situation best.
Finally, having a better foundation for recording your content will make your videos look so much better. This book entitled How to Shoot Video That Doesn't Suck is popular in the content creator circle and has an average rating of 4.7 stars out of 5 on Amazon so be sure to check it out if you need some help.