This page has affiliate links, so I'll get paid if you buy anything using my links. Learn more
The other free Keywords Everywhere alternative tools suck.
After wasting hours of research, we decided to sign-up for SEMrush as one of the best premium alternatives.
SEMrush is the most comprehensive competitive intelligence tools suitable for online marketers.
One of the features that marketers love is the keyword analysis tool.
When using SEMrush, you will learn the strengths and weaknesses of your prospective customer and competitor.
It can also be used as a content analyzer to measure your content's SEO and social performance.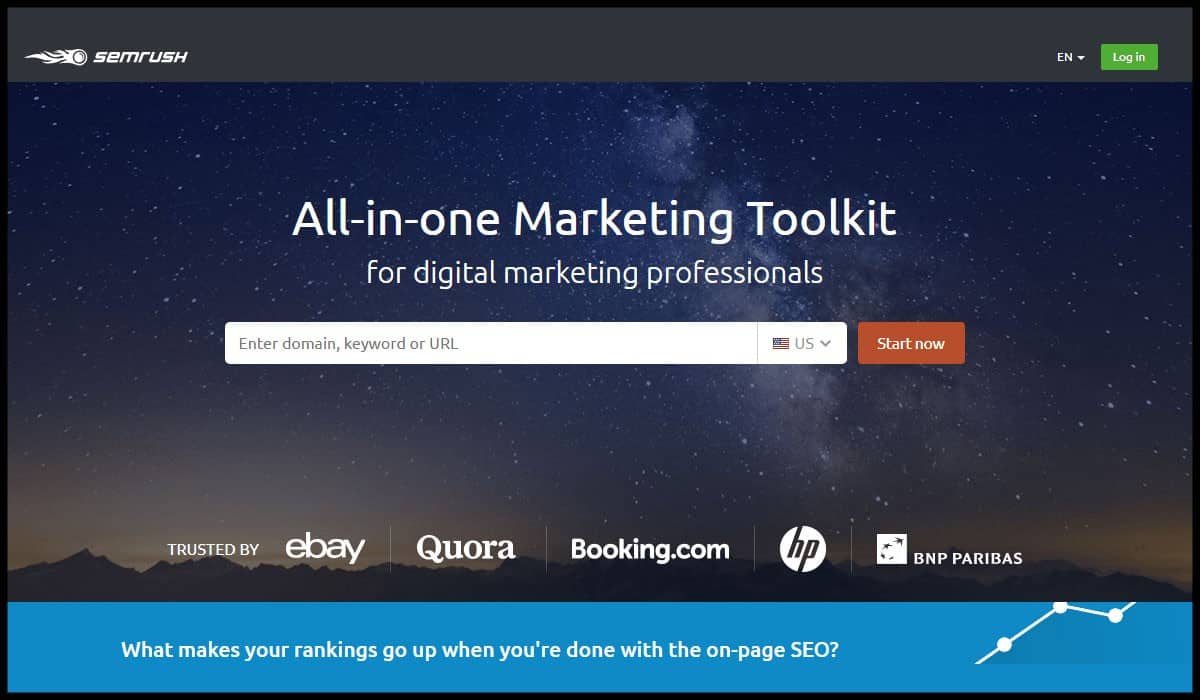 The Best Keywords Everywhere Alternative
Why is SEMrush one of the best Keyword Everywhere alternatives?
Mainly because SEMrush uses current data!
Their keyword tool has current data (which is why it costs more).
Quality matters more than quantity, so we think you should try SEMrush as a reliable Keywords Everywhere alternative.
If you do use SEMrush, you also get other great tools to help grow your website. If you've been blogging using crappy free keyword tools, then you will want to audit your website using the Content Audit tool.
Some of the amazing features of the Content Audit tool are listed below.
Content Audit Tool
Shows the overview of the most important content metrics
The important content metrics such as social impact (number of shares across the social networks), user behavior metrics (number of sessions, bounce rate, and session duration), and websites linking to your content. The feature will also help to highlight issues that are preventing your content from being visible in search engines.
Helps measure the content that you publish externally
It is quite hard to track the performance of your content on external sources but you can easily use SEMrush Post Tracking to do this. This feature is going to give you all of the metrics that you need for evaluating the content results on the other website.
Gives you the chance to assess the social impact of your content.
You can make use of SEMrush analysis tools to check the number of shares that your article got on Twitter, Facebook, and LinkedIn. You can also explore deeper and see the number of shares that it got over time. You will also get the chance to track all the backlinks that your articles need and also assess the quantity and quality of these links as it will provide you with the trust score and the page score for all of the backlink.
You will also get to see how the article is attracting traffic from the search engines by searching all of the keywords in your article that is being indexed in the Google Top 100.
Allows you to compare the performance of your content
If you are looking for apps that can help to quickly discover which article got better results, pinpointing the most successful author, or to know which external sources that did the best job. With the Content Analyzer, you can do this, you will also see how different articles, websites, or authors compare when compared against each other. You can also create a customized URL group to get a deeper analysis.
From the results of your comparison, you can then get enough data that you can use to decide which topic, author, or source that you will focus on.

Related: SEMRush Review